The best low protein dog food is beneficial to dogs with kidney and liver problems as it reduces stress on these organs.
As a vet tech, I recommend low protein diets to protect your dog against certain health issues such as allergies, liver cirrhosis, kidney issues, etc.

A low protein diet is one of such special diets. In addition to protein, dogs also require fat to build muscle and maintain normal body functions.
They also need 10 essential amino acids from their diet. Those amino acids are hard to digest in dogs with certain chronic health problems. A high protein diet can be harmful for them. Chronic kidney disease, acute kidney failure, and chronic obstructive pulmonary disease require special low protein diets.
A protein is a chemical compound made up of amino acids. The dog's body is composed of amino acids. There are 22 amino acids that dogs need, and 12 of them can be synthesized by them.
There is no easy way to find a low protein dog food that is safe for your dog. Due to my background as a vet tech, I researched the best low protein formulas.
My favorite low-protein dog food for pups with liver problems is Hill's Prescription Diet l/d Liver Care Dog Food.
Our Top Picks Best Low Protein Dog Foods
Best Low Protein Dog Foods Reviewed
Lets review one by one and find the which formula best in which condition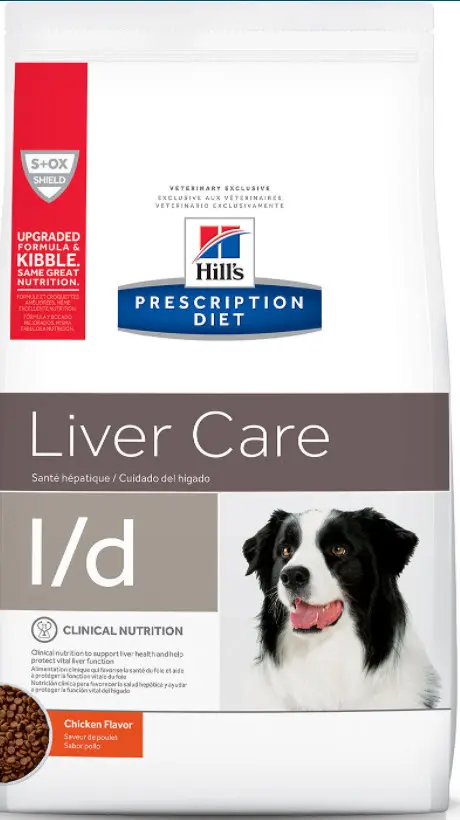 Key Feature: Low protein prescription diet with specific nutritional liver support
Guaranteed Analysis: 14.5% Crude Protein, 20.5% Crude Fat, 3.5% Crude Fiber, 10% Moisture
First 5 Ingredients: 1-Brewer's Rice, 2-Pork Fat, 3-Egg Product, 3-Soybean Meal, 4-Powdered Cellulose
Caloric Content: 402 kcal/cup
Type of Product: Pea-Free, Veterinary Diet, Low Protein
Best For: Overall
Generally, dogs with liver problems require a low-protein diet. This Formula contains key nutrients focused on supporting liver function.
A damaged liver is less able to process high levels of low-quality protein.
This formulated food not only boosts your dog's immunity, but it also promotes a healthy urinary environment, reducing the risk of struvite and calcium oxalate crystal formation. Please contact your veterinarian to find out how Prescription Diet food can benefit your dog!
Pros
High quality of low protein
Best for liver disease dog
Suitable for pups having Kidney and urinary problems.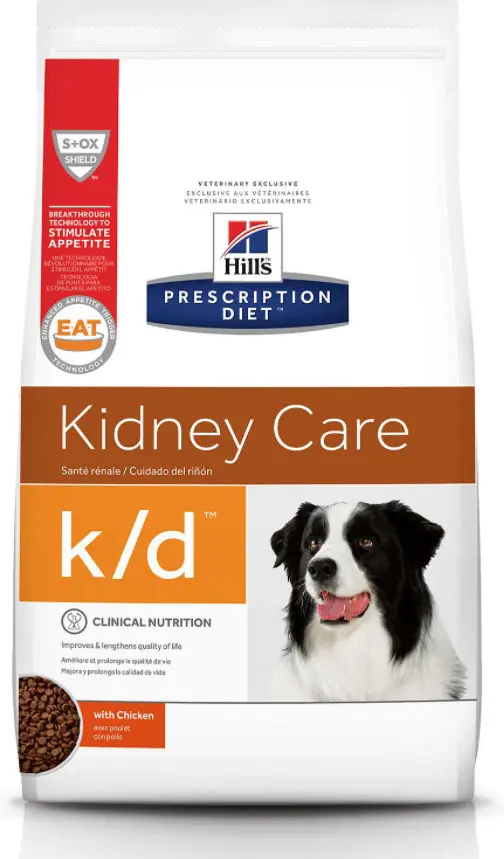 Guaranteed Analysis: 12.0% Crude Protein, 18.0%(min) Crude Fat, 5.0% Crude Fiber, 0.4% Calcium
First 5 Ingredients: 1-Brown Rice, 2-Brew Rice 3, Pork Fat, 4-Cracked Pearled Barley, 5-Chicken,
Caloric Content: 402 kcal/cup
Type of Product: Pea-Free, Veterinary Diet, Low Protein
Best For: Overall
The Diet K/D Kidney Care line from Hill's is often recommended by veterinarians and supports kidney and heart health.
This Formula Food assists the body in building lean muscle in a natural way by maintaining kidney and heart function.
And with features like E.A.T. (Enhanced Appetite Trigger) technology, appetite and food intake are increased in Dog food.
Pros
Controlled phosphorus and low sodium level
Clinically tested to improve the life of your dog
Complete and balanced diet for kidney problems dogs
Best dog food for kidney disease
It supports to build muscle due to presence of amino acids
Best for all dog breeds
Best for happier and longer life for your pup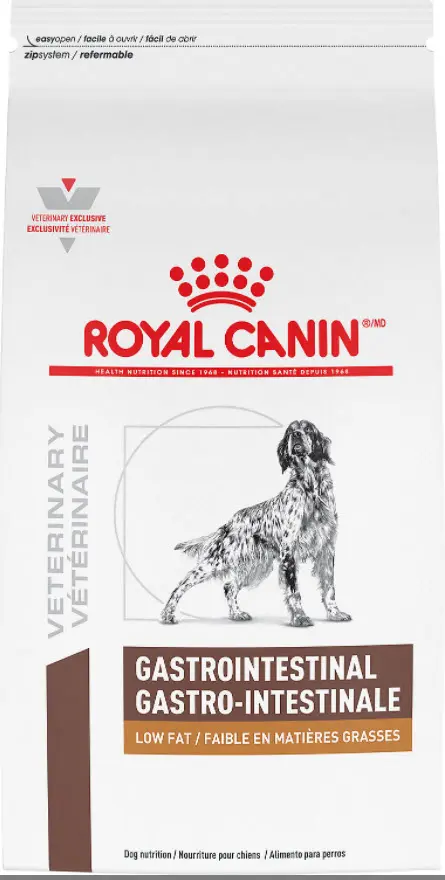 Guaranteed Analysis: 20% Crude Protein, 5.5% Crude Fat(min), 3.9% Crude Fiber, 10% Moisture
First 5 Ingredients: Brewers Rice, Chicken By-Product Meal, Wheat, Barley, Natural Flavors
Key Feature: Low protein dog food with support for sensitive digestion
Caloric Content: 248 kcal/cup
Type of Product: Weight Control, Pea-Free
Best For: Low Protein Dog Food for Sensitive Dogs
This palatable, digestible low-fat dog food is formulated for dogs that may have difficulty digesting or consuming fat. With prebiotics, the gut is well-balanced.
The combination of fibers helps the digestive process to be as efficient as possible. Fish oil, which contains omega-3 fatty acids EPA and DHA, soothes the digestive tract.
This product is ideal for dogs who have difficulty controlling their weight because it has a low fat content and a caloric content of 248 kcal/cup.
Pros
Best for dogs with long- or short-term digestive sensitivities.
This food promotes digestive health.
This Food promotes the stool quality at optimal level
Provides sufficient calories for your pup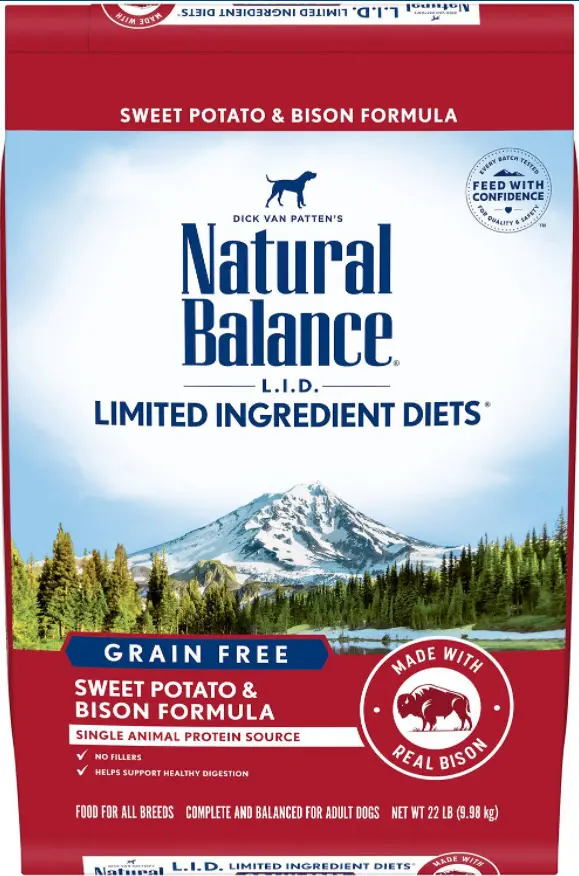 Key Feature:
Crude Protein (min) :20.0%
Crude Fat (min):10.0%
Breed Size: Small Breeds, Medium Breeds, Large Breeds
Sweet Potato & Bison Formula, available in Natural Balance Limited Ingredients Diets Dry Dog Food, is a grain-free diet that is suitable for dogs of all life stages. Diets rich in DHA keep your dog's brain sharp and focused. Additionally, the formula promotes glowing skin and a healthy coat.
Dog metabolisms are complex, and some dogs can eat nearly anything – while other dogs need different diets.
As it is suitable for all ages, it can even be used as a low-protein puppy food since it contains no artificial flavors or colors.
Pros
It is perfect for pups in any life stage
It keeps your buddy's brain sharp and focused.
Best for Shiny and healthy coat of your dog
Best for pup having food sensitivities
Free from grains
Available in several other flavors – chicken, fish and venison
Cons
Little bit expensive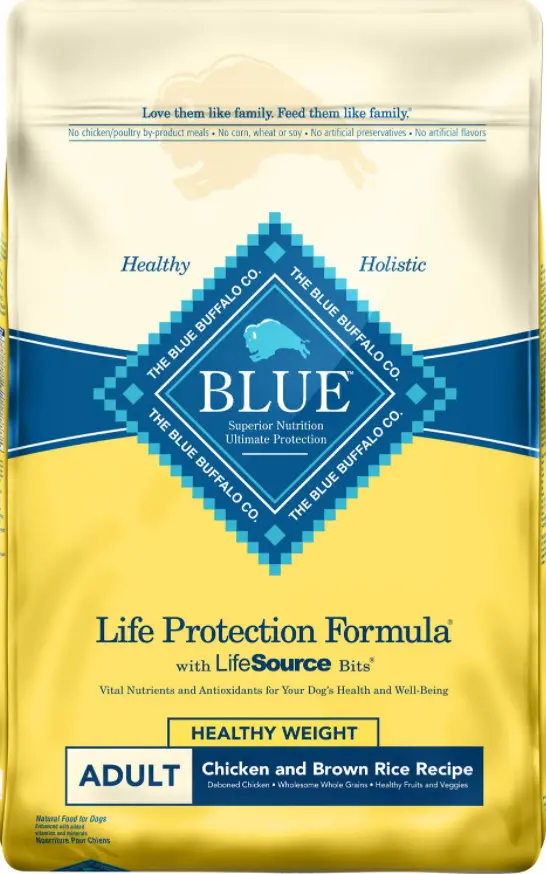 Guaranteed Analysis: 20% Crude Protein, 9% Crude Fat, 10% Crude Fiber, 10% Moisture
First 5 Ingredients: 1-Deboned Chicken, 2-Chicken Meal, 3-Brown Rice, 4-Barley, 5-Pea Fiber
Key Feature: Low protein, high fiber formula compatible with weight control diets
Caloric Content: 326 kcal/cup
Type of Product: Weight Control, No Corn, No Wheat, No Soy
Best For: Low Protein Dog Food for Weight Control
This formula contains less fat and helps your dog manage their weight.
Providing controlled levels of protein and antioxidants as well as L-carnitine and omega-3 fatty acids, Blue Buffalo's prescription canned food formula is ideal for kidney support.
Despite the fact that dogs are highly active, low protein food is not recommended for them. However, some dogs may need it.
Pros
Best for weight management
It supports to develop lean muscle by controlling the weight
It support joint function and mobility of your dog
Best for immune system of the dog
Best for strong bones and teeth of your dog
Guide For Buying The Best Low Protein Dog Food

Dogs require high protein diets, but there are some situations where protein should be reduced. In addition to low-protein diets, low-calorie diets can hurt a dog's health.
Before switching your dog to a low-protein diet, you should consult your veterinarian.
Benefits of Low Protein Diet
Low-protein diets offer numerous benefits for some dogs. As a result of lower protein levels, the metabolic organs can rest and function optimally. The symptoms of impaired organ function may be alleviated in some pets.
By accumulating waste products from protein metabolism, other health conditions can develop, such as encephalopathy.
Protein is vital to the overall development of a dog since it is needed to grow, develop cells and tissues, as well as to synthesize hormones and enzymes.
The liver, small intestines, and kidneys have to process protein, as do other nutrients and substances.
Additionally, excess protein can lead to crystal formation within the urinary tract. Low-protein diets are beneficial for preventing these disorders as well as limiting toxin production.
What to Consider When Buying the Low Protein Dog Food
However, this macronutrient is still vital to dogs with health conditions that require reduced protein intake.
Consider these factors before choosing a low-protein dog food.
Amount of High quality Protein
According to dietary guidelines, dogs should consume at least 18% protein in their diets. Dogs who do not have severe health conditions that need a lower protein diet may be suitable for non-prescription diets with 20% protein.
Certain dogs might require an extra low-protein diet, such as those with kidney or liver problems, allergies, or sensitivities.
When you buy dog food, low protein might not be the first thing on your mind, but certain health issues may make low protein dog food necessary.
As omnivores, dogs have digestive systems that are optimized for digesting meat. Plant proteins are not as valuable to dogs as animal proteins.
In addition to boosting overall protein content, plant sources may be difficult for your pup to digest.
Palatability
Picky pups can also be affected by kidney conditions. Adding fats and aromas can make low-protein diets more appealing to dogs.
Dogs with reduced appetites may benefit from concentrated nutrients in smaller serving sizes.
Phosphorus levels
For the kidney to function properly, low levels of phosphorus are important. It is important to supplement a low-phosphorus diet with B vitamins, potassium, antioxidants, buffering agents, and omega-3 fatty acid
Health Conditions The Require a Low Protein Dog Diet
Liver Disease
During protein metabolism, the liver plays a crucial role in removing toxins.
As toxins are not filtered by the liver, there is an accumulation of waste in the blood.
They can cause hepatic encephalopathy if they reach the brain.
Renal Failure
Low-protein diets may slow down kidney disease in patients with renal failure, according to recent studies.
When the kidneys are unable to produce urine by removing waste products and filtering blood, this is called renal failure.
Thus, nitrogenous waste can no longer be removed, resulting in an increase in the blood urea nitrogen level.
When you give your dog more protein, there is a tendency for more waste to accumulate in the blood, resulting in more serious problems.
Bladder Stones
The urinary tract can accumulate urinary crystals from protein metabolism as bladder stones. Low-protein diets allow your dog to return to his regular diet by assisting the crystals to dissolve.
Protein-Losing Nephropathy
Despite not always being associated with renal failure, this disease can accelerate progressive kidney decline. Large protein molecules can pass through damaged kidneys due to damage to the filtering mechanism.
Protein can be lost through the urine if these holes become larger. A diet that is lower in protein content can help reduce gaps and increase protein absorption.
FAQ about Low Protein Dog Diet
Why Do Dogs Need a Low Protein Diet?
To build tissues and cells, dogs require protein in their diet. Although several organs take part in the breakdown of proteins so that they can be utilized by your dog, they play a key role as well as other nutrients in your dog's diet.
Proteins are broken down into amino acids in the small intestine. After this breakdown, byproducts are transported to the liver for processing. Following this, the kidneys eliminate any remaining nitrogenous waste.
What percentage is low-protein dog food?
In most commercial dog foods, particularly those for maintenance of adult dogs, the protein content is 25%.
In contrast, a prescription diet should have a protein content between 18% – 23% to be considered low-protein.
However, the quality and ease of digestion of the protein in the food are more important than the quantity of protein
Are eggs high in phosphorus?
Yes, which is due to the yolk. The yolk of an egg can supply approximately 95 mg of phosphorus, but without it, it supplies only 5 mg.
Can Any Dog Eat Low Protein Dog Food?
Your veterinarian must recommend changing your pup's diet if you feed low-protein dog food.
As a general rule, dogs do very well on high-protein diets because they stay energized all day, but there are some conditions that are likely to result in intolerances or sensitivities or other reasons why your dog's protein intake should be restricted.
You should only feed your dog low-protein foods if he or she has been diagnosed with a condition that calls for it.
Conclusion
The liver and kidneys, which filter metabolic waste, are less stressed when they consume low-protein diets.
During kidney failure or liver failure, dogs that accumulate protein metabolism by-products can suffer severe complications. On the other hand, protein is an essential nutrient in a dog's diet.
As my favorite low protein dog food, I recommend Hill's Prescription Diet l/d Liver Care Dog Food. Low-protein prescription diets can help you ensure that your pup is getting the right kind of nutrition.
Keep your veterinarian informed of your dog's condition after he is diagnosed, and conduct your own research to learn more about your dog's condition and what you can do to help.