This is our review of Best Dog Food for Liver Disease
You need to take things very seriously, when the vet tells you there's something wrong with Dogs's liver.
Dogs with liver disease show early signs and require an immediate diet change.
As we know, the liver is one of the best multi functional organs in the body and builds important proteins which transform into storable energy. It helps in fat digestion and metabolism of vitamins and minerals and purifies the toxic elements from the body and is finally eliminated by the kidney.
As a veterinarian,I recommend the best dog foods for liver disease to dog owners which is a mix of high quality meats and microelements., vitamins, proteins and minerals as these elements are most important for your dog's liver's functioning.
The quality of dog food will not allow the disease to spread further especially If the liver of Dog is damaged and requires some time to restore.
If you use the wrong ingredients, toxins can build up in your liver. For example High-sodium diets can aggravate liver disease in your dog. As with Protein, the main ingredient of protein is vital for restoring the hepatic cells
As a dog owner of your loved pet diagnosed with liver disease you have to keep in mind ingredients in food need to be and what not to feed to your dog.
I will explain at the end of the article what are the Common symptoms of Liver disease and the prevention of liver disease.
First let's get started with what are the Best Dog Food for Liver Problems.
List of Best Dog Food for Liver Disease
Let's check out the top diets on the list for your liver disease pet.
1-Hill's Prescription Diet l/d Liver Care (Overall Best Dog Food For Liver Disease)
2-Royal Canin Veterinary Diet Hepatic Formula (Runner Up Prescription for liver disease)
3-The Honest Kitchen — Whole Grain Turkey Recipe Dehydrated Dog Food(Best budget-friendly Option for liver disease )
4-Blue Buffalo Natural Veterinary Diet KS Kidney Support Grain-Free Formula (Temporary management of hepatic disease)
5-Purina Pro Plan Veterinary Diets NF Kidney Function Formula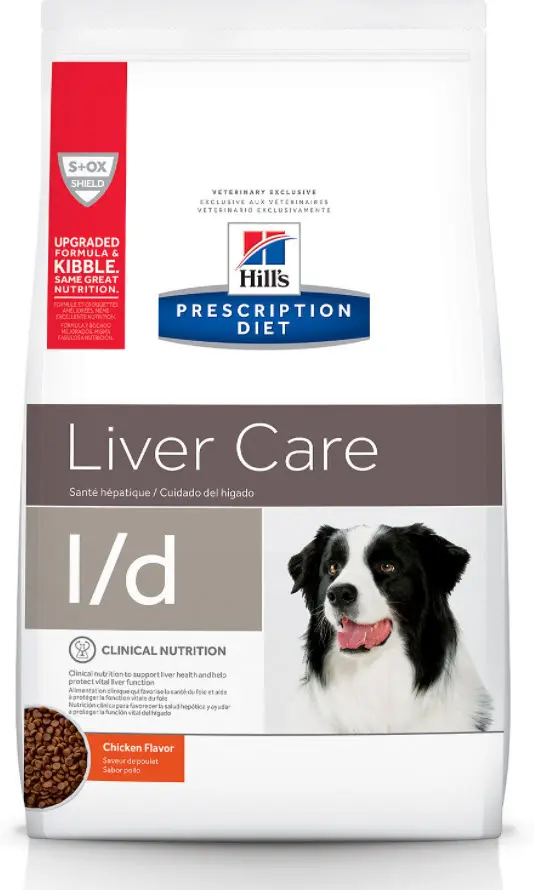 First 5 ingredients: 1.Brewers Rice 2.Pork Fat, 3.Egg Product, 4.Soybean Meal, 5.Powdered Cellulose
Fat content: 14%
Protein content: 14 %
Type of product: Veterinary Diet
Life stage: Adult
Best for: Managing hepatic disease for long-term
This diet supports your dog's overall health while excluding the harmful things for his liver.
The moderate protein level in this dog food makes it arguably one of the best diets available for dogs that have liver disease.
Even the fussiest dog will find the diet palatable and energy-dense due to its high fat content in the form of pork fat. If the biliary system is involved, this can be very taxing on the liver's metabolism.
It also contains vitamins, essential nutrients, reduced sodium, and digestible proteins besides liver supplementation. This great tasting formula provides clinically proven nutrients and antioxidants to support your dog's metabolism and immune system
There are no age or size restrictions to Hill's Prescription Diet, so you can feed it to any dog, no matter what their breed.
Pros
Moderate level of proteins
Low Copper content
Improves digestion of your dog
Removes Toxin from the blood and helps to store vitamins and minerals
Vet recommends this food for liver problem dogs
Presence of low sodium to help maintain normal blood pressure
Available in Wet Form as well
First 5 ingredients: 1.Brewers Rice, 2.Corn, 3.Brown Rice, 4.Soy Protein Isolate, 5.Chicken Fat
Type of product: Veterinary Diet
Life stage: Adult
Best for: Long term management of hepatic disease
With the presence of chicken and egg this food has a positive impact on the liver of your dog.
This diet is also one of my favorites for dogs with liver problems. It contains moderate amounts of high-quality protein and fat, and is energy-dense.
The recipe for this dog food for liver problems is filled with all the nutrients your dog needs to keep its liver in good health. Its delicious crunchy kibbles are packed with nutrients to enhance liver function.
Pros
Great for all sizes of breeds
Contains Low copper and boosted zinc content
Contains Low level of sodium which helps blood pressure
Contains helpful amino acids
Cons
You need to consult your vet before purchasing
No added L-Arginine
Available in Wet Form As well.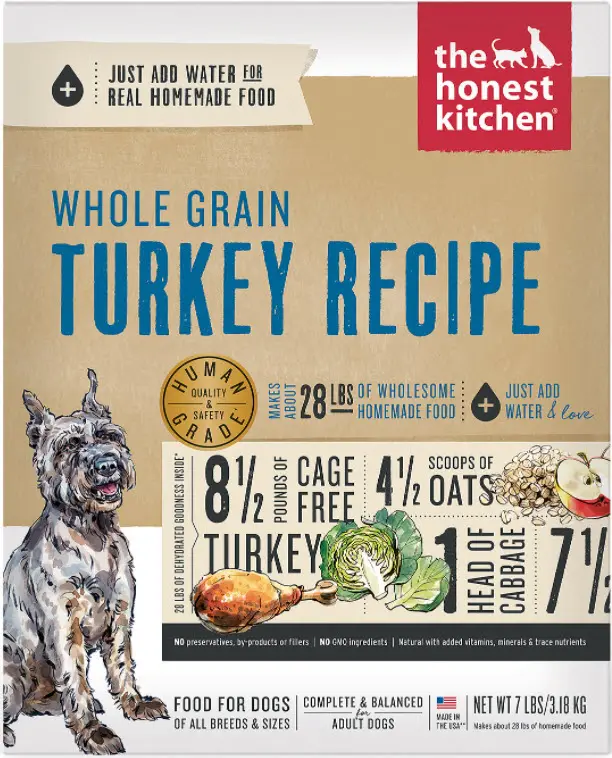 Top 5 Ingredients: 1. Dehydrated Turkey, 2. Organic Oats, 3. Dehydrated Potatoes, 4. Organic Flaxseed, 5. Dehydrated Carrots
Protein content: 22%
Fat content: 15%
The ingredients in the Honest Kitchen's recipe are also rich in other protein sources, zinc, and vitamin E to help your dog maintain good liver function, as well.
For small breeds to grow lean muscles and retain energy, they also require a number of microelements. This is a great dog food if your pet experiences general weakness and unstable walking.
The majority of pet food manufacturers use ingredients from shady sources. Honest Kitchen products are processed entirely in the United States, and all ingredients are wholesome and safe. Therefore, it has no byproducts, fillers, additives, preservatives, nor GMOs.
To calculate precise food portions, you can obtain smaller, 2oz packs or larger, 10lbs packs based on your dog's size and weight. It provides over 20% of your protein intake and can be used as a meal substitute or simply as a flavoring for morsels. Adding water to the dry food will turn it into wet food, so pick your pet's favorite from chicken, turkey, or beef.
Pros
No GMO Present
Suitable for growing puppy and grown up dogs
Meets with rigorous FDA safety standards
High quality of Low protein source
Minimally processed
Cons
Little bit expensive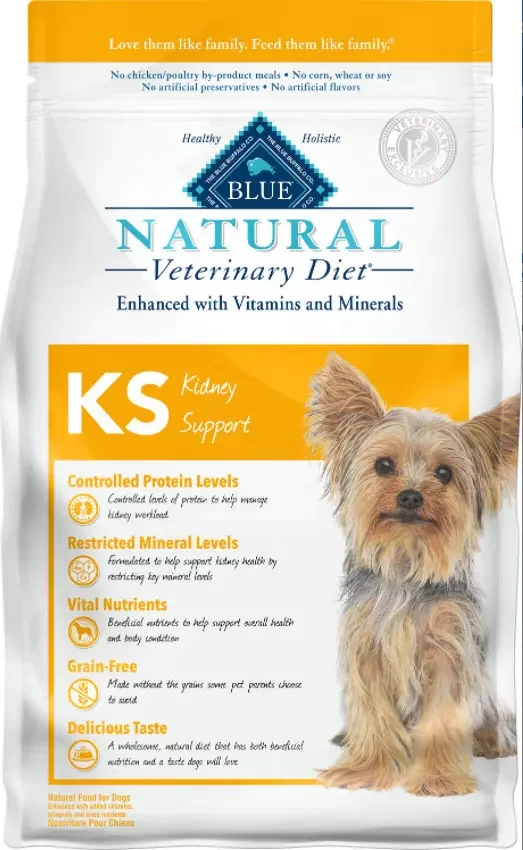 Key features:
First 5 ingredients: 1-Deboned Chicken, 2-Potato Starch, 3-Pea Starch, 4-Peas, 5-Potatoes
Type of product: Veterinary Diet
Life stage: Adult
Best for: Temporary management of hepatic disease.
Blue Buffalo's Kidney Support formula can be a decent temporary replacement for dogs with liver problems.
This product contains controlled levels of high-quality protein sources, such as dried egg products.
This diet should only be used temporarily in dogs with liver disease. Once you can get a liver-nourishing formula again, switch to it.
Food products containing L-Carnitine, DL-Methionine, omega-3 fatty acids, vitamin E, and prebiotics are available. Collectively, these compounds support liver health.
However, this diet should only be given to dogs with liver disease temporarily. As soon as you have access to a liver-nourishing formula again, switch to it.
This product can also be found in a wet canned form.
Pros
Controlled level of proteins
Grain free
Available in both Dry and wet form
Best for sensitive tummies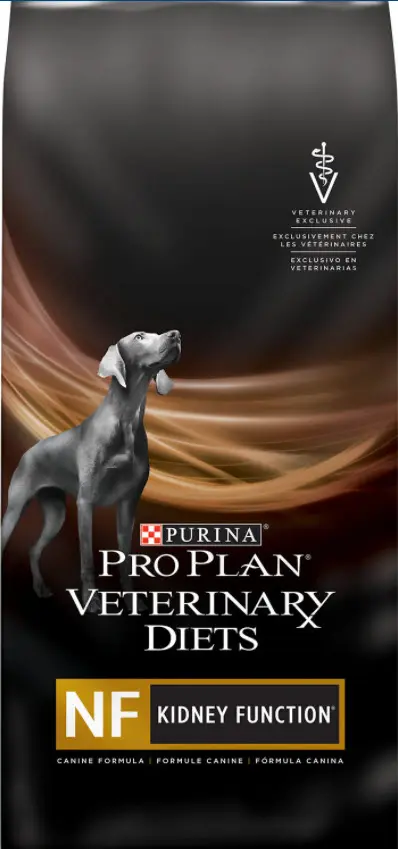 First 5 ingredients: 1-Whole Grain Corn, 2-Brewers Rice, 3-Dried Egg Product, 4-Animal Fat Preserved With Mixed-Tocopherols, 5-Sugar
Type of product: Veterinary Diet
Best for: Hepatitis management on a temporary basis.
Life stage: Adult
It is specially formulated to help dogs maintain kidney function.
The Purina Pro Plan Diet contains high-quality protein and phosphorus in restricted amounts. With antioxidants for your sidekick and a reduced level of sodium, this dry dog food is pawfect for dogs of all breeds.
You should not give this food to your dog with liver problems for a long time due to its low calcium, phosphorus, and sodium levels. Discuss this with your veterinarian.
The product is available in a wet canned food form.
Common Symptoms of Liver Disease in dog

Liver disease in dogs
It is possible to develop liver disease for many reasons, such as toxins, infections, diet, genetic issues, etc. Bile circulation problems cause digestion problems. Liver damage is also possible. A circulatory disease can cause it to swell and leak fluid into the abdomen.
There is usually a long delay between the initial damage and the visible symptoms.
It is for this reason that I often urge owners to have their pets get regular veterinary checkups and to ideally have a blood test once a year for early detection of any health problems.
You may notice the following symptoms at home if your dog have liver disease:
Decreased appetite
General weakness and fatigue
Diarrhea
Stomach pain
Vomiting
Pacing and restlessness
Yellowing eyes and gums
Lack of energy
Depression
Abnormal behavior
Progressive weight loss.
Causes of Liver Disease In Dogs

Despite the fact that there are numerous causes for your dog to suffer, inflammation is often connected with the problem. Inflammation by itself can result from cancer, parasites, fungi, and even a viral infection. According to veterinarians, liver disease can be caused by:
Abdominal trauma
anemia
from bacterial infection
with viruses, parasites, or fungi
inherited characteristics
resulting from toxic exposure
affecting the immune system
In addition to the symptoms mentioned, dogs may also suffer from other health problems. You should consult a veterinarian before switching your dog's diet or beginning any treatment so preventive measures can be applied under a veterinarian's supervision.
Frequently Asked Questions About Dogs With Liver Disease
What to feed a dog with liver problems?
Due to liver disease, every dog has special dietary requirements that standard dog food cannot accommodate.
Foods that are high in copper should not be fed to dogs suffering from liver disease.
Excessive levels of copper are associated with liver disease. In such cases, copper intake needs to be carefully monitored and limited.
It is recommended that dogs with liver disease avoid meats rich in copper such as lamb, beef, duck, pork, salmon, and most organ meats.
Can you prevent liver disease?
In addition to a healthy diet, your dog's yearly vaccinations can help prevent liver disease.
There is no way to prevent all liver diseases, but annual physicals can help you catch liver conditions early on. then you can then start treating them before any serious damage occurs.
How can my dog get liver disease?
Among viral diseases affecting the liver of dogs, infectious canine hepatitis is most common. When dogs are exposed to urine-contaminated soil or water, they can be infected with leptospirosis, a bacterial infection that can result in liver disease.
How Can I Improve My Dog's Liver Function?
It will be necessary for the vet to determine how much liver damage has occurred.
A change in diet may be beneficial. In order for your dog's liver to function properly, he may need a special diet. Milk thistle can aid liver restoration.
How Long Do Dogs Live With Liver Disease?
Timely diagnosis is the most important factor. Treatment for liver disease has become more effective in recent years. It is possible for pets to live with these conditions for a very long time.
What Food to Avoid for Dogs with Liver disease?
For ill pets, artificial flavors and preservatives are highly discouraged. The liver normally filters out the chemicals they contain, preventing them from getting into the bloodstream.
Chemicals will affect the liver's functions because it is already damaged, and therefore can't perform them.
Which Nutrients Promote Liver health?
Foods with high-quality protein sources are important for dogs with liver disease, particularly non-meat sources of protein. When using animal sources of protein, chicken or turkey should be used.
Dietary fiber is another important nutrient. A dog with liver disease needs plenty of healthy fiber, which can be found in carbohydrates such as white rice, barley, pumpkin and oatmeal.
How to treat liver disease?
Please take your dog to the vet immediately if you suspect he may have a liver condition.
A veterinarian is the best person to help you. Treatment for liver diseases differs according to their causes, as explained above.
Consult your veterinarian if you have any questions or concerns about the specific condition you have.
Can liver disease be painful for my dog?
It depends on the liver disease's cause and symptoms. These can be very specific or vague. An overall malaise in dogs is often accompanied by vomiting, nausea, weight loss, anorexia, diarrhea, and possibly abdominal pain.
Your dog may experience pain as a result of liver disease.
Can a Dog's Liver Repair Itself?
The process is irreversible. If the liver is damaged before peak point, it can recover and heal, and your dog is still able to function normally.
The degree of recovery of your dog depends on the cause of the liver damage, and if the right treatment is initiated early, the chance of recovery is high.
Is A Grain-Free Diet Good For Dogs With Liver Disease
The consumption of grains alone does not affect liver disease. Hence, you do not need to eliminate them from the dog's diet if the dog is not allergic to them.
Check out our other article on Best Dog Food for Allergies
Can Liver Failure Develop From Liver Disease?
It is true that all liver failure starts with the disease. It is essential, therefore, to create the right diagnosis and treatment at the right time.
What treatment should I give my dog with liver disease?
Besides changing the dog's diet, there are a number of medicines and supplements available that can help dogs fight the disease. However, it's best to consult with your dog's vet beforehand.
Can Liver Disease Cause Death?
Unfortunately, Yes, dogs can also die of liver failure just like humans. A dog with liver failure should get medical attention immediately.
How do you feed dogs with liver disease?
The best way to feed your dog is to give it frequent small meals. The digestive system and liver can cope better with smaller amounts of food.
You can mix dry and wet food if your dog with liver problems loses appetite. However, if this does not work, bringing the dog to the veterinarian is in his/her best interests.
Are Specific breeds more prone to liver disease?
Many dogs suffer from copper storage diseases. As a result, their liver has a more difficult time excreting excess copper. The Bedlington terrier, Labrador Retriever, and Dalmatian are examples of these breeds.
What are the causes of increased liver enzymes in my dog?
Certain conditions or diseases, such as Hepatitis (swelling or inflammation of the liver), may raise liver enzyme levels.
Dogs may exhibit elevated liver enzymes as a result of a buildup of fat in their liver, which is called fatty liver disease.
What Mineral and Vitamins are Beneficial for a Dog with Liver Disease?
The following lists supplements that are beneficial for dogs suffering from liver disease:
Vitamin E
Zinc
Vitamin C
Vitamin B
Calcium
Omega-3 fatty acids
Vitamin K
L-Carnitine
L-Arginine
How do I Minimize Sodium Intake in a Dog Diagnosed with Liver Disease?
Reduce salt completely in your dog's home-cooked food if he has liver disease.
Keep a close eye on ingredients with natural sodium levels and eliminate them as well.
Prepared foods should have a minimal to zero sodium content, so check the label carefully. Check the sodium content of treats as well.
Can liver disease lead to liver failure?
The answer is yes. A disease begins, then progresses to a deadly stage of liver failure.
An early stage of liver disease may not present any symptoms to your dog. Bacterial infections can also cause liver disease in some cases.
What things do I need to look for in the best dog foods for liver disease?
The right nutrients and supplements are essential. It is important that the food includes ingredients that will not further stress your dog's liver apart from ensuring an impressive nutrient profile.
Diet Requirements For Dogs With Liver Disease
Many people are unsure about whether feeding their pets a high-protein diet is beneficial. There is one thing we need to be clear about: dogs with liver issues do not have a problem with protein. Protein is an important nutrient that improves liver function. Having ammonia in the protein can be troublesome for dogs who have a chronic liver disease at the end of their lives.
The treatment plan recommended by experts for dogs with liver disease should also include sticking to the basic guidelines of the diet.
High-Quality Protein Sources
People with liver disease often believe that proteins are bad for their dogs.
Monitor your dog's protein intake rather than reducing or eliminating it. Your dog will get enough amino acids for digestion by feeding him only high-quality animal protein.
Moderate amount of Fat content
Diets designed to support the liver vary in their fat content. It can be helpful to add fat to your dog's diet to make it more appealing and more energy-dense, but it can also add metabolic stress to the liver.
When a dog's liver problem is related to the dog's bile duct system, it is particularly difficult. You should ask your veterinarian how much fat your dog should consume.
Carbohydrates
Every dog's diet should contain complex carbohydrates, but liver disease dogs need them even more.
The carbohydrates provide soluble fibers in the body that reduce nitrogenous wastes and ammonia. Oatmeal is one of the best sources of such complex carbohydrates.
Low in copper
The majority of these diets are also beneficial for dogs with copper storage disease. If your dog is unable to eliminate copper properly, it will accumulate in the liver. This can damage the liver.
Added Supplements
Because sodium content is being decreased in dogs with liver problems. It is crucial to balance this out with essential nutrients, such as zinc, vitamin E, vitamin B complex, vitamin K, and vitamin C.
Types Of Diets For Liver Disease
Homemade Dog Food
An alternative to commercial dog food is homemade dog food. Homemade dog food gives you full control over the ingredients. However, it may be best to consult an expert before preparing it.
Commercial Food
It is also possible to feed your dog commercial dog food. Be sure to review the ingredients list before feeding your dog. For additional nutrition, you can add homemade dog food or prescription food. It makes it easier to get accurate dietary information.
CONCLUSION
I hope you have found the best dog food for liver disease.you can use it for your dog with liver problems.
Metabolic activity in the body is heavily influenced by the liver, as mentioned above. Therefore, it is one of the body's most important organs.
If your dog's health is compromised, maintaining its quality of life and preventing further damage is paramount to preventing further damage.
In my experience as a veterinarian, both Hill's and Royal Canin liver support diets have their own benefits according to use in liver problem situation. I would prefer to use Hill's Prescription Diet l/d Liver Care where fat content is not an issue in liver problem diets.
And I would go for Royal Canin Veterinary Diet Hepatic Formula in a situation where hepatic cells are compromised.
There are two main reasons why this liver-friendly recipe is highly palatable. The first is that it uses vegetables as protein sources, and the second is that its copper content is quite low.
To prevent any damage control of your dog with liver disease please check out the list and see in which condition your dog lives.