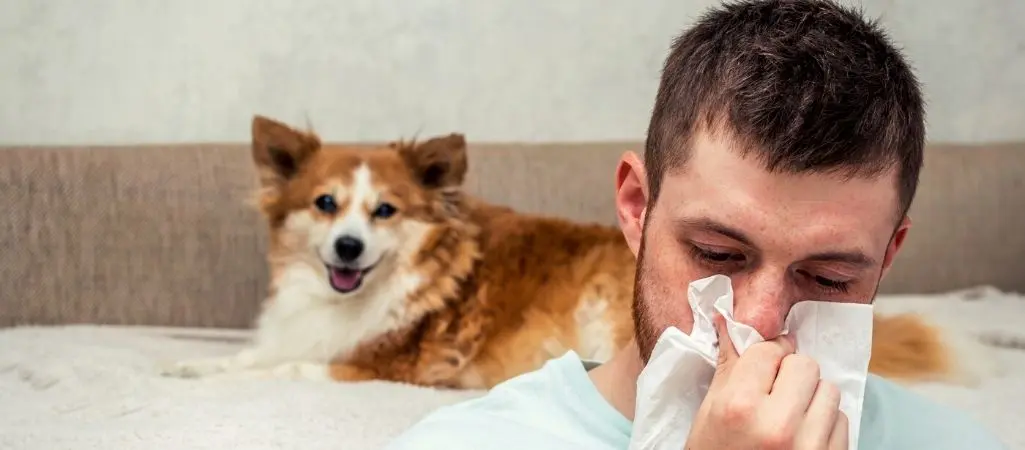 This is our detailed review of The best dog food for allergies so you can alleviate digestive problems and improve skin conditions in your dog.
If you are a dog owner, the article is for you. Dog allergies are becoming more common in recent years. The most common symptoms of dog allergies are itchy skin and paws, excessive scratching, redness around the eyes and ears, bad breath due to inflamed gums, or an ulcerated stomach lining. There is no cure for dog allergies but there is some relief available with diet change and medication.
As dogs get older they can develop food sensitivities which may lead to itchiness and dry skin on their face and feet as well as gastrointestinal problems like diarrhea or vomiting that could be linked to food intolerance or allergy.
However, if your pup has any of these symptoms then we recommend trying out new foods until they find one that works.
Let us talk about the best dog food for allergies and list 3 brands that are appreciated by many satisfied pet owners. The top three lists of best dog foods for allergies include Wellness Simple Limited, Royal Canin Veterinary Diet, and Canidae Grain-Free Pure. These brands are high in protein with limited ingredients to avoid any allergic reactions or digestive problems.
What is the best food for dogs with allergies?
Top Best Dog Foods for Allergies October 2021 Reviewed
Hypoallergenic and Limited ingredient Dog Food
There are 2 basic designs of the best food for your dog to eat.
Hypoallergenic dog foods
Limited ingredient diets
Hypoallergenic: This is the best option for dogs with multiple allergies. It contains a hydrolyzed protein that prevents triggering an allergy in your dog.
Limited ingredient diets use fewer components, are easily available online, and have many options for a dog lover to choose from and it is less expensive as well.
Limited ingredients are easy for your pup's stomach to digest without getting too much in their way when it comes to allergies.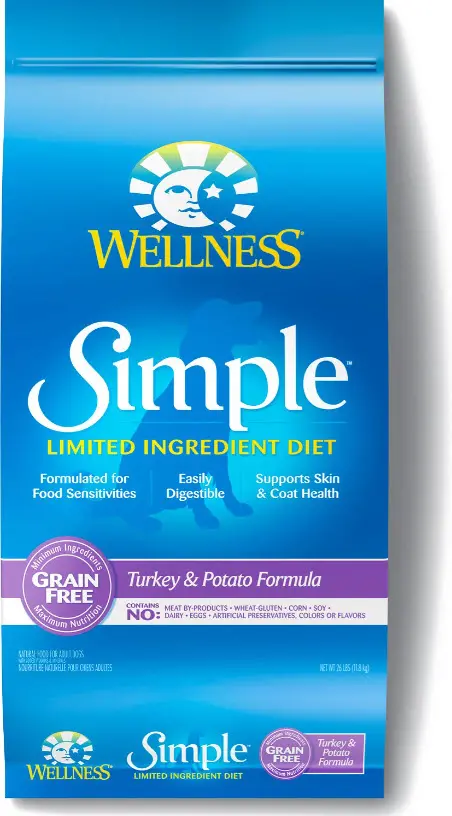 Main ingredients: 1-Deboned turkey, 2-turkey meal, 3-potatoes, 4-peas, 5-dried ground potatoes
Product-Type: Grain-free
Design Category: Limited ingredient
Who's For: Only for Adults( Dogs with a sensitive stomach)
Some dogs have allergies and get sick when they consume foods with allergens in them such as soy, corn, wheat, chicken eggs, and beef by-products.
Fortunately, there is a limited ingredient diet for dogs called Wellness Simple Limited Ingredient Diet Turkey and Potato that has been specially formulated for the canine palate.
This limited ingredient diet is made up of turkey and potato which are two ingredients that most pets will find tasty because both meat sources provide omega 3 fatty acids which help to support healthy skin and coat. The food is made up of wholesome ingredients that are low in fat, easy to digest and provide quick energy
Main ingredients: 1-Brewers rice, 2-hydrolyzed soy protein, 3-chicken fat, 4-natural flavors, 5-dried plain beet pulp
Product Type: Grain-inclusive
Design Category: Hypoallergenic
Who's For Adults + puppies of small or medium breeds
Royal Canin Veterinary Diet Hydrolyzed Protein Adult HP Dry Dog Food is a high protein, low fat, and carbohydrate diet for dogs with food allergies. The proteins in this type of diet are broken down into small pieces (hydrolyzed) to make it easier for the dog's body to digest them. The result is a specially formulated food that can help your dog live a more comfortable life while still providing all the necessary nutrients he needs to stay healthy.
The benefits of Royal Canin Veterinary Diet Hydrolyzed Protein Adult HP Dry Dog Food may be especially useful if your pup suffers from one or more different types of allergies such as skin allergies, atopy (seasonal allergic rhinitis), colitis, and gastroenteritis caused by allergies.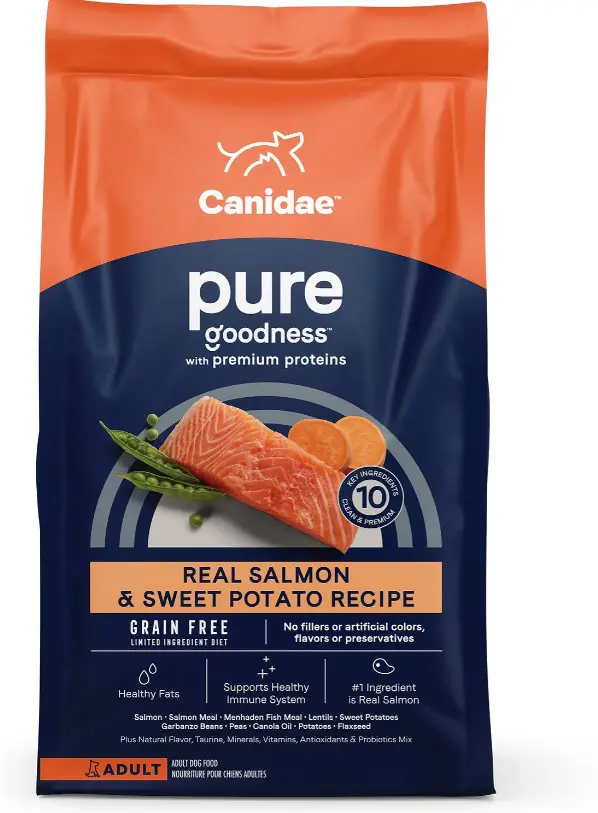 Main ingredients: 1-Salmon, 2-salmon meal, 3-menhaden fish meal, 4-sweet potatoes, 5-peas
Product Type: Grain-free
Design Category: Limited ingredient
Who's For "adults only" (not puppy-lovers)
This formula food is the perfect formula for dogs with allergies. Corn, wheat, and soy are excluded from this recipe.
The first five ingredients of this recipe are salmon, salmon meal, menhaden fish meal, sweet potatoes, and peas which make up a balanced meal for your pup's nutritional needs.
Finally, it has been designed to be a limited ingredient so that you can feed them without worrying about giving them too many additives or flavors they might not like.
This food meets all requirements for adults only (not puppies) and is best suited to maintain an adult dog's weight and condition.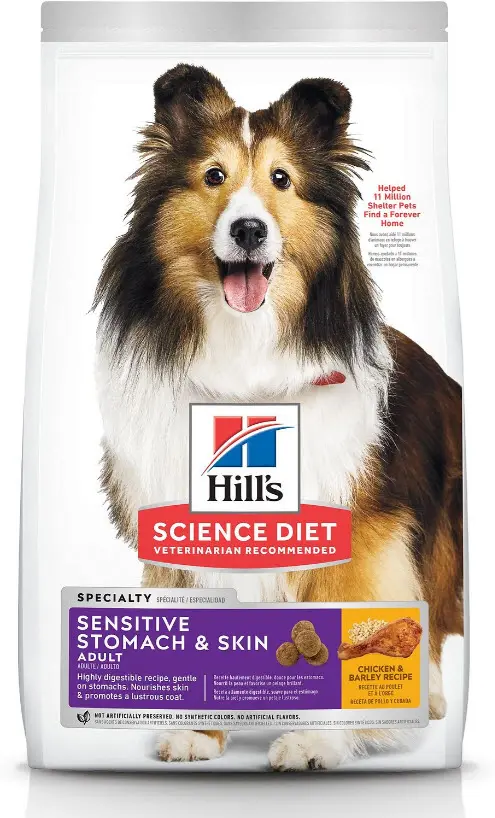 Main ingredients: 1-Chicken, 2-Brewers Rice, 3-Chicken Meal, 4-Yellow Peas, 5-Cracked Pearled Barley
Product Type: Grain-inclusive
Design Category: Sensitive Digestion
Who's For Small Breeds, Medium Breeds, Large Breeds, All Breeds
This dog food was formulated by veterinarians for dogs with sensitive skin and stomachs, so it is a perfect choice if your pup has allergies or other sensitivities.
The chicken recipe includes antioxidants for the immune system plus vitamins A, B, and D. It also includes oat fiber which aids digestion while flaxseed provides omega-3 fatty acids that help keep joints healthy.
This nutritious formula is available in dry kibble or a canned variety depending on what you are looking for in an option.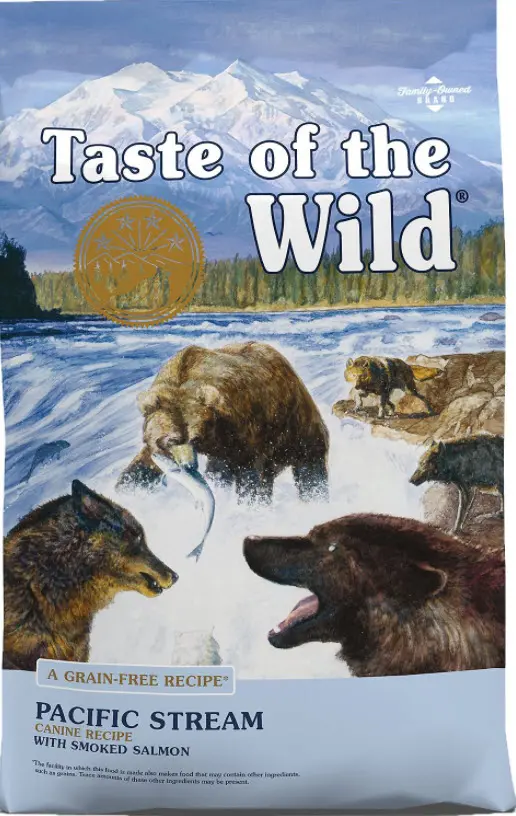 Main ingredients: Beef, lentils, tomato pomace, sunflower oil, natural flavor
Product Type: Grain-free
Design Category: Limited ingredient
Who's For: All adults and puppies
Taste of the Wild Pacific Stream Dry Dog Food is a grain-free formula that helps support healthy skin and coat. It contains limited ingredients, so it's perfect for dogs with food allergies or sensitivities. The first five ingredients are beef, lentils, tomato pomace, sunflower oil, and natural flavor. This product has been designed for all life stages and is best for all adults + puppies.
The Taste of the Wild Pacific Stream Grain-Free Dry Dog Food will help your pup maintain a radiant appearance! If you're looking to try something new on your dog's diet without any risk of irritation or allergic reactions then this is the product for you!
What TO Look for When Choosing Dog Food For Allergies
Your canine friend might have a food allergy if they suffer from gastrointestinal distress, skin rashes, and ear infections.
Switching your pet's diet is one of the best ways to reduce these symptoms. If your pooch has an allergy, sticking with the option for at least 12 weeks is a good idea before deciding on different food. Some easy guidelines to follow when choosing the best alternative for your pet include:
Avoiding ingredients that appear in many types of foods, such as wheat and soy, can help you narrow down alternatives.
Looking at the first few items on the ingredient list might be helpful since ingredients are listed in order of weight.
Try to find a pet food that doesn't contain grains, such as corn or wheat. If the label reads "with grain," you'll know that your dog's diet contains some form of these carbohydrates.
Large and giant breeds might need higher levels of animal protein, while toy and small breeds can do well with vegetable protein.
Choose dog foods that are appropriate for your pet's age and weight. Your vet or a canine nutritionist can give you advice on the best one to choose.
Dog food containing certain types of carbohydrates, such as gluten (which comes from cereal grains like wheat), might not be suitable for dogs with food allergies.
If you suspect that your small dog has a food allergy, look for the term "novel" in the list of ingredients – this means it contains a protein and starch combination that is not found in other foods.
Related: Best dog food for SIBO
FAQS On Dog Food For Allergies
What Is The Most Common Food Allergens in Dogs
Some common allergens include beef, dairy products, eggs, and wheat; however, these are not ingredients found in most commercial dog foods. The four most common allergens found in dog foods are chicken (or poultry), soybean oil (a type of vegetable oil), corn, and wheat gluten (which contains gluten).
What is the difference between Food Allergies and Food Intolerances
Food Allergies: With food allergies, the immune system responds to a particular type of protein in the food, which causes an allergic reaction.
Food Intolerances:
With food intolerances, the body is unable to digest or break down certain types of carbohydrates (like lactose) and proteins (like gluten), causing digestive issues like bloating and gas.
It's important for people with either condition to avoid foods that cause their symptoms because both can be life-threatening if not managed correctly. For example, anaphylaxis is common with severe cases of allergies; it can lead to death within minutes if not treated immediately with epinephrine injection. If you think your dog has a food allergy or intolerance, talk to your veterinarian about testing options today!
What is the best food to feed a dog with allergies?
Some dogs have food allergies that are common to the following foods: wheat, chicken, beef, pork, dairy products, and eggs. To determine if your furry friend has a food allergy you might try an elimination diet
What foods should dogs with allergies avoid?
Foods that contain the most common allergens such as wheat, soy, corn, eggs, and dairy should be avoided. Dogs can also have food sensitivities or intolerances to foods like beet pulp or blueberries which might not be directly related to allergies. When cooking at home, a dog's owner should look for food that is labeled as containing "ingredients designed for sensitive stomachs" or something similar to ensure the food doesn't contain any allergens.
What foods make dogs itchy?
There are many culprits behind the itchy skin and irritated ears that plague dogs. One of the most common offenders is food sensitivities, which can develop as a result of something as simple as an animal protein-based dog food ingredient such as chicken or beef.
Other potentially problematic ingredients include those found in artificial preservatives like BHA and BHT and synthetic colors like Red Dye No 2 (also known to be problematic for people).
Is salmon or lamb better for dogs with allergies?
Salmon is a great choice for dogs with allergies because its high omega-3 content plays an important role in the healthy function of the dog's immune system. Omega 3s have been shown to have involvement in allergic reactions and dermatitis, and salmon contains high concentrations of these acids.
Lamb is also a good choice because it has less saturated fat and more iron than beef or chicken, which would make it well-suited to any diet designed for people with allergies. Lamb also supplies many essential vitamins and minerals that often aren't found in foods traditionally associated with having an allergy formula such as wheat flour, cornmeal, eggs (for quick news), sugar (sucrose). It can be dried or canned.
What is the least allergenic food for dogs?
Green beans, Natural Lamb and Brown Rice would be the least allergenic food for dogs.
How can I tell what my dog is allergic to?
A vet can perform a number of tests to see if food allergies (IgE) or flea allergies (IgG, IgM) are the cause. The gold standard is endoscopy with biopsy where it is possible to take samples from the gut lining and look for evidence of microscopic gastrointestinal inflammation caused by a dog-food allergy.
Each year 3 million Americans experience pet allergies, which causes them to breathe in or consume allergens like animal dander and saliva that make them sneeze. Many people experience this dog allergy seasonally when they don't spend much time outdoors, while others may only be affected every now and again during their pet's shedding period–sometimes both at once! A few telltale signs of this type of allergy are watery eyes, sneezing, wheezing, and an itchy nose.
Conclusion
In order to find the best dog food for allergies, it is important to figure out your pup's dietary needs.
Some dogs have sensitive stomachs and need a hypoallergenic diet that doesn't include any fillers or byproducts while others may require grain-free options in order to avoid causing an allergic reaction. The key when choosing a new bag of pet food is to read labels carefully and make sure you're feeding your furry friend something they can digest easily!
Once you've figured out what type of ingredients are going into their meals, it should be easier than ever before to pick up the right brand at the grocery store. We hope this article has been informative and helpful.
Once again remember the top three lists of best dog foods for allergies includes Wellness Simple Limited, Royal Canin Veterinary Diet, and Canidae Grain-Free Pure
As an Amazon Associate, we earn from qualifying purchases at no cost to you.
Check out our other article on Best Dog Food for Bladder Stones