Most dog lovers ask, is Purina Pro Plan a good dog food?
Let's review this Purina Pro Plan and 4 of its most important Sub-brands.
When you start looking at the perfect dog food for your puppy friend, the Purina Pro Plan comes in search of brands which are top brands in the dog food industry.
we have gone in details of Purina Pro Plan Reviews, and its Top Sub-Brands, check out below.
The quality of a dog's life is largely determined by its diet. In order to ensure that your dog is getting the best and most balanced diet.
Purina research and develops the best recipes. Purina Pro Plan looks out for your pup from day one, the very first time you feed him solid food.
Nutritional profiles for each recipe are provided by AAFCO (The Association of American Feed Control Officials). To find out more, please visit their website.
Main Purina Pro Plan dog food ingredients
Chicken (main source of protein)
Salmon Beef and lamb ( dogs digest animal protein more easily than plant protein)
Brewers Rice (main source of complex carbohydrates);
Dried egg product
Fish meal,
Plant-based foods like this can also add a lot of protein to the label, a factor that should be considered when analyzing the actual meat content of the dog food.
Other Notable Ingredients
Pro Plan recipes are not totally grain-free. Some ingredients like wheat, soy, and corn are present in this formula.
However, this formula also contains some controversial ingredients like corn gluten meal, which can result in allergic reactions.
You can use Purina Pro Plan sensitive skin & stomach if your pup has allergies.
On the basis of only its ingredients panel, Purina Pro Plan Adult Dog Food looks like a Great product.
Purina's Pro Plan dog food is the company's premium product line. In order to meet the unique nutritional needs of your dog, the company uses only the highest quality ingredients.
Our Verdict & Rating of Purina Pro Plan
Purina's Products line uses the highest quality of ingredients, contains live probiotics and offers advanced nutrition for your dog's needs. Each of its recipes uses a moderate amount of by-product meal and uses a primary source of animal protein.
It is still possible to find formulas that are suitable for sensitive pups despite some controversial ingredients that may cause adverse reactions. Picky dogs enjoy the taste of this brand's canned dog food as well.
keeping these things in mind: Pro Bright Mind Plan Gets 4.5 stars out of 5. We would highly recommend this for all types of Dog breed.
For sensitive skin and stomach we highly recommend Purina Pro Plan Sensitive skin & Stomach formula.
Talk to your veterinarian about the Purina Pro Plan dog food for pups,if you need comprehensive nutritional support
Check out other sub-brands of Purina Pro plan as well below.
Kind of Dog Foods Purina Pro Plan Offers
The Purina Pro Plan product line provides a range of formulas for puppies with varying nutritional requirements.
From simple recipes for dogs with sensitive stomachs to cognitive support for aging dogs, they have it all.
Which Pro Plan Sub-Brand Is Right for Your dog?
Let's find out which pro plan is most popular and choose the one that suits most for your dog.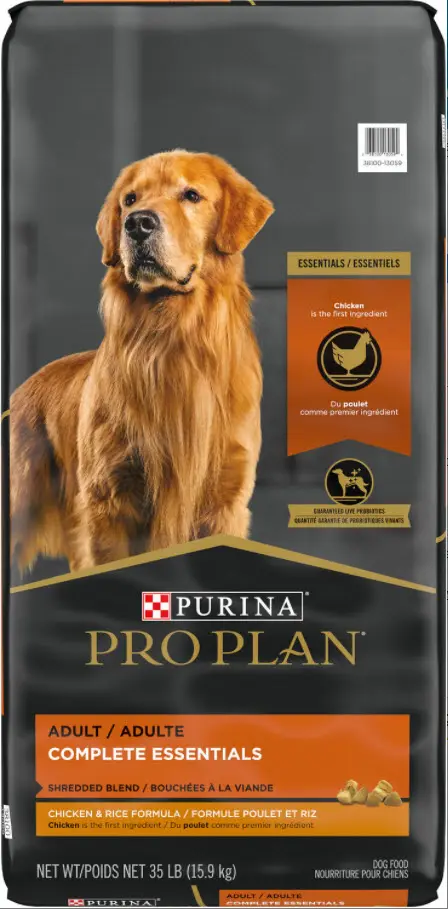 Adult Complete Essentials
Pro Adult Plan's dry kibble is designed scientifically to meet your adult dog's needs.
All Complete Essentials dog foods use real chicken as the meat as the first ingredient which is an excellent source of carbohydrates for energy, to provide a moderately high protein content. This kibble along with other high-quality ingredients creates a wholesome meal with great flavor to appeal to picky eaters.
Benefits
Great source of energy
Best for healthy digestion, due to contains of probiotics
Support a healthy coat due to high level of omega fatty acids and vitamin A
It provides superior nutrition, due to chelated minerals.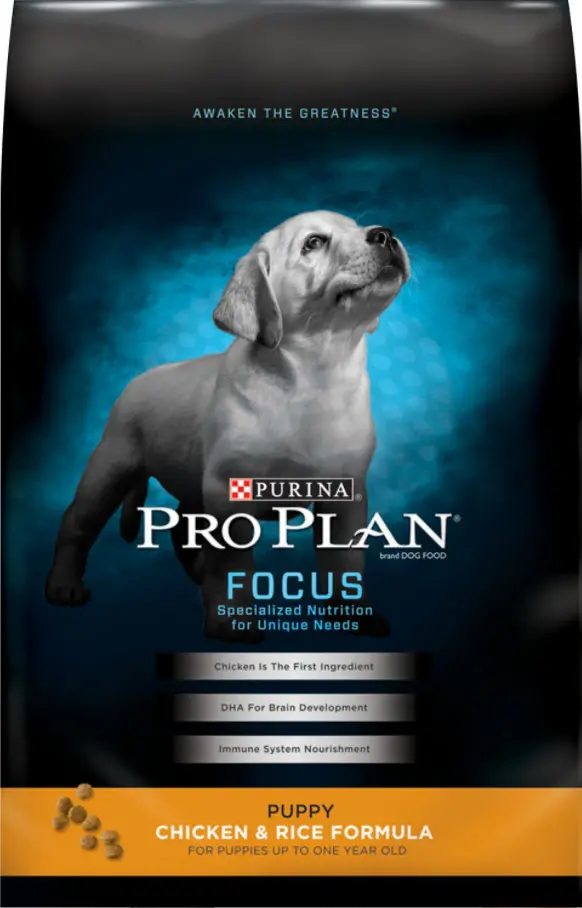 Purina Pro Plan Puppy formulas contain advanced ingredients for precise protein and nutritional amounts for puppies' healthy growth.
Presence of calcium and phosphorus helps in bone growth of your loved puppy.
In growing puppies, DHA from fish plays a vital role in brain development.
This pro plan puppy has probiotics and antioxidants which helps and support the immune system of young growing dogs.
Benefits
Balanced nutritional formula for growing puppies
Controlled calcium for bone health for your young dog
Best for small and large breeds
It supports brain developments, due to DHA from fish oil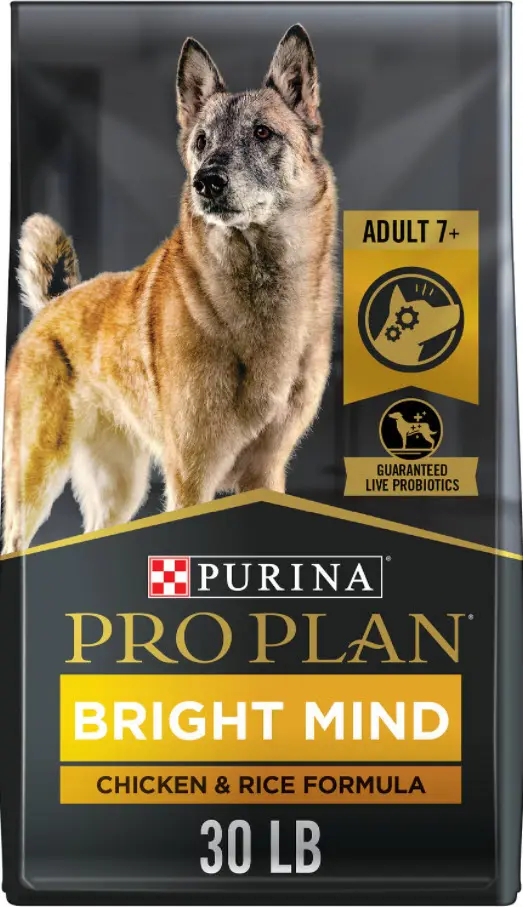 Pro Plan's Bright Mind is senior dog food. MCT, a natural fatty acid supplement, is found in all of the recipes to boost cognitive abilities in older dogs.
Furthermore, omega-3 fatty acids, which are rich in antioxidants, protect all tissues against oxidative stress from aging.
The addition of glucosamine supports joint health. Dogs with osteoarthritis can benefit from glucosamine, which is a cartilage-building substance
Benefits
Best for the joint health of elderly dog
Enhance the cognitive health ( Brain health)
Improves nutrient absorption in senior dogs
Suitable for all senior dogs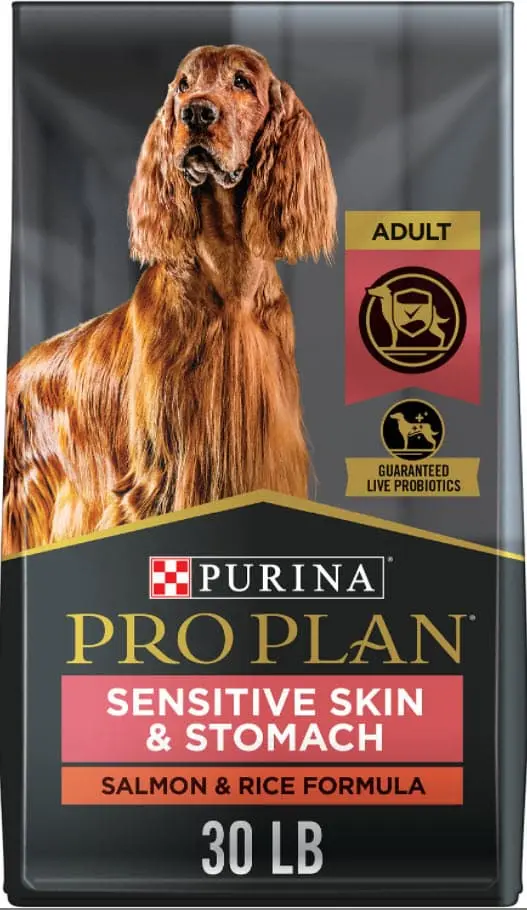 This high-protein dry food Pro plan formula for adult dogs is formulated to nurture your dogs sensitive skin and stomach.
This Pro Plan guarantees live probiotics for the digestive and immune system.
Presence of oatmeal is easily digestable
This formula Rich in omega-6 from sunflower oil which is healthy for the skin and coat of your dog.
Prebiotic fiber as natural nourishes specific intestinal bacteria for digestive health.
Reduce the risk of digestive upset or skin condition
It supports the skin and coat of your dog due to omega fatty acids
It supports the weak digestive system due to the live probiotics feature in the formula.
Does not contain corn, wheat and soy which are common allergen recipes.